The Heavener Coking Coal Project is situated in Le Fore County, Oklahoma and Scott County Arkansas and is part of the Arkansas Valley Coalfield. The Project is owned by Ouro Mining, Inc. under six (6) coal leases, totalling approximately 27.72 square kilometres adjacent to each other and contain an estimated 65,000,000 tonnes, more or less, of proven and probable coal reserves and resources (non-JORC compliant). The tenements lie adjacent to a potential additional 140,000,000 tonnes of coal resources (which are currently unleased) adjoining the northern boundaries of the tenements.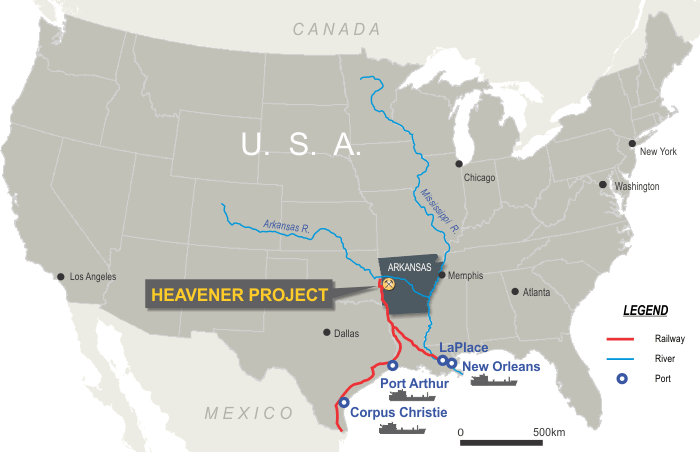 The previous owners, Farrell Cooper Mining Company (FCMC), recently completed open cut mining of the Project in 2006, producing unwashed metallurgical grade coal for local and overseas customers. Ouro Mining, Inc. plans to commence underground development on the Lower Hartshorne Coal Seam. The coal is low to mid-volatile hard coking coal which is much sort after for the steel industry and, when washed, will command a premium price.

Ouro Mining, Inc plans to build a coal washery on site, which is several hundred metres north of the Kansas City Railway line. This railway line accesses the Ports of New Orleans (Louisiana) and Port Arthur (Texas) as well as a western seaboard port of Lazaro Garden as (Mexico). Coal can also be trucked to ports on the Arkansas River (Keota or Van Buren) and barged down the Mississippi river for offshore loading at New Orleans. Both of these transport methods are used for material bulk transport in the area.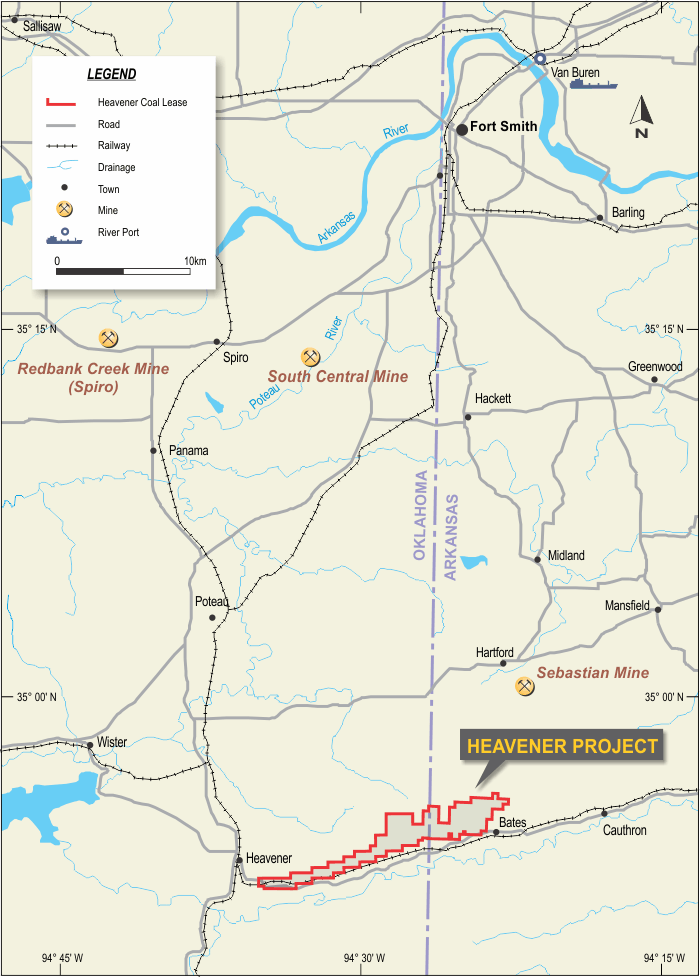 The Lower Hartshorne seam within the Ouro Mining, Inc. coal leases is one of the thickest coal seams in the entire Arkansas Valley Coal Field. The seam dips between 12° to 17° to the NNW in the Heavener area and varies from 1.5m to 4.5m thick. There is insignificant faulting or folding noted in the entire 18kms that were open cut mined by the previous operators.

Ouro Mining Inc plans to take advantage of the excellent infrastructure in the project area, and with the surging demand for high grade coking coal, makes the project development at Heavener extremely well timed.